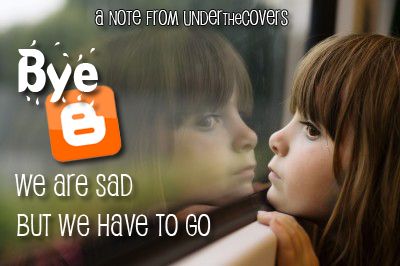 THIS IS IT!!!
Today is our final day with Blogger. We've had such a blast here and we can only hope that you will join us as we take our journey over to Word Press.
What does this mean?
We will no longer be active on this site. There will be no more new reviews, author interviews, guest posts and giveaways happening here. Starting Saturday November 9, 2012, in order to receive the latest happenings with us, you can now visit our newly launched Word Press site at
www.underthecoversbookblog.com
How will this affect YOU, our reader?
All our old posts will still be here but any new information will only post on our new home (
www.underthecoversbookblog.com
). So here's what you can do to make sure you don't miss out on anything we have to offer.
If you have our blog bookmarked, please be sure to update your bookmark to http://www.underthecoversbookblog.com
If you follow us via GFC (Google Friend Connect), we are sorry but Google won't allow us to take you with us. If you want to stay connected, please be aware that you can follow us many different ways! You can:
If you follow us via RSS feed, we will have a different feed once our new site is up tomorrow, so be sure to follow that!
We hope that you'll join us at our new home!