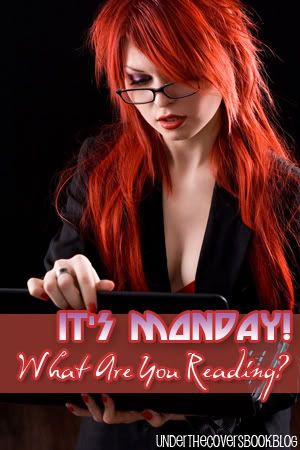 It's Monday! What Are You Reading? Is a meme hosted by Shelia over at
Book Journey
.
Because she kept reading Lisa Kleypas reviews and missed her writing.
Someone to Watch Over Me by Lisa Kleypas
(Bow Street Runners #1)

A devil's bargain

Easily the shyest Wallflower, Evangeline Jenner stands to become the wealthiest, once her inheritance comes due. Because she must first escape the clutches of her unscrupulous relatives, Evie has approached the rake Viscount St. Vincent with a most outrageous proposition: marriage!

Sebastian's reputation is so dangerous that thirty seconds alone with him will ruin any maiden's good name. Still, this bewitching chit appeared, unchaperoned, on his doorstep to offer her hand. Certainly an aristocrat with a fine eye for beauty could do far worse.

But Evie's proposal comes with a condition: no lovemaking after their wedding night. She will never become just another of the dashing libertine's callously discarded broken hearts -- which means Sebastian will simply have to work harder at his seductions...or perhaps surrender his own heart for the very first time in the name of true love.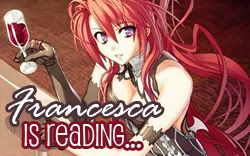 Because she couldn't WAIT to read this book!
Taken by Fire by Sydney Croft

(ACRO # 6)
In Lieutenant Eve Dallas's latest case, two murder victims have one connection--Eve's lover, Roarke.
Police Lieutenant Eve Dallas has no problem finding connections between two violent crimes. Both victims were beautiful and highly successful women whose intimate relations with men of great power and wealth provided Eve with a long list of suspects—including her own lover, Roarke.
Because Francesca's been pimping this series out!
Riding the Storm by Sydney Croft
(ACRO # 1)
She lives for passion.
Bold, impulsive, and a magnet for trouble, Juliana Fiori is no simpering English miss. She refuses to play by society's rules: she speaks her mind, cares nothing for the approval of the ton, and can throw a punch with remarkable accuracy. Her scandalous nature makes her a favorite subject of London's most practiced gossips . . . and precisely the kind of woman The Duke of Leighton wants far far away from him.
He swears by reputation.
Scandal is the last thing Simon Pearson has room for in his well-ordered world. The Duke of Disdain is too focused on keeping his title untainted and his secrets unknown. But when he discovers Juliana hiding in his carriage late one evening—risking everything he holds dear—he swears to teach the reckless beauty a lesson in propriety. She has other plans, however; she wants two weeks to prove that even an unflappable duke is not above passion.