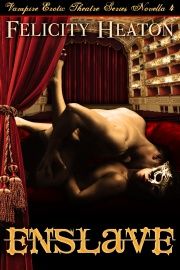 (Vampire Erotic Theatre #4)
by Felicity Heaton
I am genuinely in love with this series and every time a new book comes out, I fall even deeper in lust…I mean deeper in love with it. Ms. Heaton had done it again and brought us another short story that will bring you to *cough* ask DH for some lovin' *cough*.
Andreu has come to Vampirerotique to cover for his older brother Javier while he is out of town. During his stay, his plans are straight to the point; learn the ropes of the business and someday start his own theater. Though Andreu looked up to his brother as far as his business accomplishments, he did not agree on his relationship status. He does not want to be shackled to his business much less to be shackled to one female until of course he meets the one thing he did not expect, a Succubus named Varya.
Varya is a succubus looking to feed but found it at the wrong place and the wrong time. Never would she think she would be addicted to ONE man let alone a vampire. Breaking all the rules to get a taste of this irresistible vamp, she keeps coming back to see him. Unfortunately, her boldness cost her her freedom as the men at Vampirerotique took actions in defense of her unwanted presence.
It is so hard to decide which book is the best in this series, as I love each of them. From hot alpha hero to promiscuous heroine to a great plot to steamy hot scenes; each book has them all. Andreu and Varya are definitely another hot couple from the VET series. I love this heroine, as a succubus Varya is out right up front with what she wants. One of her attempts to bed Andreu was hilarious; she is positively one determined woman. I don't blame her at all, I mean Andreu is "sin made flesh", "incredibly powerful" and very sweet.
As with all my reviews for VET, I must mention Snow. Though we only got glimpses of him, I was of course excited with glee. I do realize that despite his disability from his bloodlust, he tries to take care of everyone and the theater. It's so exhilarating to see him stand up and attempt to save the day with this strength and knowledge *sigh*. We also get a good amount of the rest of the cast and a good introduction to the fae world. A possibility of a spin off? Maybe, hopefully.
Overall, another 5 whopping sexy stars for this book and I highly recommended read.
*ARC provided by the author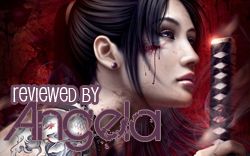 Purchase Links:
Amazon