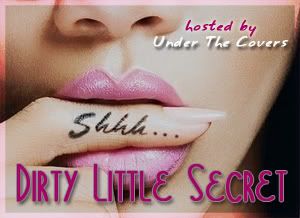 Dirty Little Secret
is a weekly meme hosted by us at Under the Covers. Every Thursday we get to know other bloggers and our readers more intimately by asking them a question hoping to reveal their dirty little secrets. We hope that you will all join us!
To participate in the meme all you need to do is:
1. Be a follower of Under the Covers.
2. Create a post in your blog taking the meme image (code above) and copy instructions.
3. Answer the question we propose! This can be done in any way you like, post a video, write a post etc.
4. Then add your link below.
Non-bloggers: We want to hear from you as well!!! Let us know your answer in the comments!
We hope you join us and let us know your
Dirty Little Secrets!
This week's question:
"Which Disney hero would you like to take to your bed? I mean on a date."
Our Answer:
Francesca:
Being that The Little Mermaid was my favorite (sorry IS my favorite) Disney movie and I always wanted to be Ariel, then it is no surprise that I would pick Prince Eric. And I mean... he married a fish so it can't get any kinkier than that ;) He can take me to bed anytime, no date required!
Annie:
I'm going with
Francesca
! Even though my favorite is Beauty and the Beast, I have a thing for Prince Eric. I think it might be the prince thing.
Angela:
I agree with you there Annie. It may be a "prince thing" but my thing is for
Prince Philip
from Sleeping Beauty. He's all man who can and will defeat any dragon to save you. *sigh* he's so dreamy! A handsome and brave Prince indeed!
Suzanne:
Bah, you guys can take your Fishy Prince and the Prince that likes to snog girls whilst they sleep, I am all about Tarzan, hot man in loin cloth...here I come (if I'm lucky bahahahaha)!
Now it's your turn!