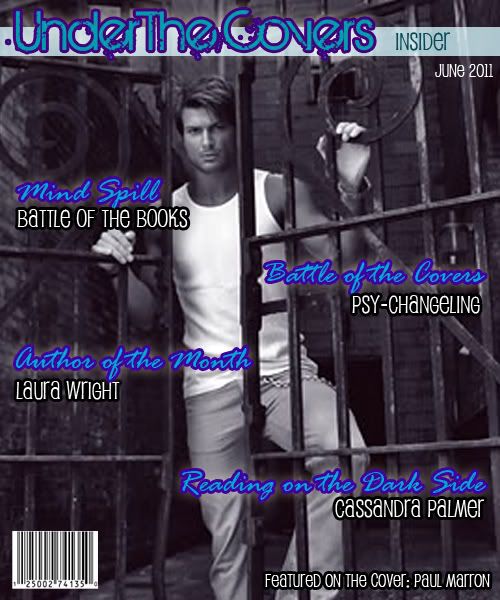 The first day of every month we will post our "Under The Covers Insider" which will allow you to access any special features we will run for the month, as well as our upcoming giveaways and events
June 2011
Author of the Month
Please help us welcome Laura Wright as our Author of the Month, check out our post!! Laura will be stopping by our blog at the beginning of the month to chat with us, as well as taking over the blog with a special edition of "Author Override".
Giveaways
Helps us celebrate our 200 Followers with

Laura Wright!! We'll be giving away a "book of winner's choice" from her Mark of the Vampire series + swag, you don't want to miss it. June 2 - June 7. (CURRENTLY CLOSED)
Stop by for our 18+ Couples Giveaway!!! June 2 - 5 we will be giving away a copy of Naked by Megan Hart. (CURRENTLY CLOSED)
We are very excited to have Jill Myles stopping by our blog on June 9 - June 12 for an interview and giveaway. (CURRENTLY CLOSED)
We are participating in the Spring Into Summer Blog Hop Giveaway on June 17 - June 21. We will be interviewing and giving away a copy of Dark Magick (The Gatekeepers Series # 1) by Stacey Thompson-Geer.
And closing the month we will have Stephanie Julian stopping by as well for an interview and giveaway on June 27!
Reading on the Dark Side
Every month we feature a series worth checking out and this month we're bringing you the Cassandra Palmer series by Karen Chance, in honor of the new release "Hunt The Moon" coming out June 7th. Click here to see what we've put together, whether you're a fan of the series or you want to take a peak, you'll love it!
Battle of the Covers: UK vs USA
In honor of the release of Nalini Singh's Kiss of Snow, we are featuring the old, cheesy original covers of the Psy-Changeling series, against the sleek UK covers. Which do you like best? Click here to see the post and cast your vote!
Mind Spill
Our first edition! Come and share your opinions on the Battle of the Books! Click here!
Our Hotties This Month!