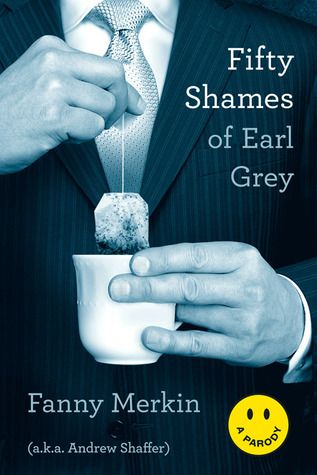 Fifty Shames of Early Grey
by Fanny Merkin
aka Andrew Shaffer
This is my first read from Fanny Merkin AKA Andrew Shaffer and my first parody book. I must say it was definitely entertaining and a great fun book to read.
Mr. Shaffer had written a wonderful parody of Fifty Shades series, if you did not already know. It covered most memorable points of the original story. From the airhead heroine and her "inner guidette", the bazillionaire hero and his obsession with BDSM, friends, maternal/paternal history of the H/h, certain obsessions down to the romance bit. The striking similarities had me craving for the original Mr. Grey but the inside jokes had me laughing at the absurdity of all the extremes about him, among everything else.
This book definitely had me LMFAO from cover to cover. There is a couple of things you need to pay attention to that I missed until I scan through the book the second time.
I listed a few that I thought are easy to miss. Please note that there may be some spoilers to this list:
1. Pay attention to the cover, specifically to the hand gesture (this is called a shocker).
2a.The names of the characters and the references to Fifty Shades and Twilight Books
2b.References to family backgrounds, companies mentioned (Jin's job history)
3. The List of 50 Shames
4. The Index
5. Acknowledgements
I recommend this book anyone who is familiar with the Fifty Shades series or you will miss a lot of the "inside jokes" that had me laughing. I also have to warn you that there are plenty of PUN intentions but I advise an open mind and accept this book for what it is. If you can do that, Fifty Shades fan or not, you will enjoy this book.
With any popular or hyped up subject such as song, book, movies, political issues etc, there will always be a parody, IMO. Mr. Shaffer did just that and delightfully, a job well done.
*Print ARC provided by Publisher in exchange for honest review.