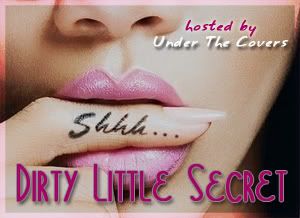 Dirty Little Secret
is a weekly meme hosted by us at Under the Covers. Every Thursday we get to know other bloggers and our readers more intimately by asking them a question hoping to reveal their dirty little secrets. We hope that you will all join us!
To participate in the meme all you need to do is:
1. Be a follower of Under the Covers.
2. Create a post in your blog taking the meme image (code above) and copy instructions.
3. Answer the question we propose! This can be done in any way you like, post a video, write a post etc.
4. Then add your link below.
Non-bloggers: We want to hear from you as well!!! Let us know your answer in the comments!
We hope you join us and let us know your
Dirty Little Secrets!
This week's question:
What books have recently made you cry?
Our Answer:
Annie:
I will mention the one book that had me bawling my eyes out for the entire last half of the book. It was Sweet As Sin by Inez Kelley. I've cried while reading books before but I have never encountered a book where I literally broke down completely over a hero. This book is about personal demons and how a person's past can ultimately control one's life if you let it. I'm sure that if I read this book again, there will be another guaranteed ugly cry moment. It was just so heartbreaking and emotional. One of the best books I've read all year.
Francesca:
The most recent books that have made me cry have been Nobody's Hero by Kallypso Masters and Dream Lake by Lisa Kleypas. With both books, it's about the deeply emotional background story with both books. In Nobody's Hero, Adam hasn't had an easy life and all of those tough things to go through have made him who he is today. Being confronted with some difficult things can be hard and Nobody's Hero had me sobbing uncontrollably. Dream Lake was all about loss and missed opportunities and how sometimes life doesn't give you a chance, or that second chance that you needed. It was so good it hurt and had silent tears running down my face by the end.
Angela:
One of the recent books that made me cry is Defiant by Pamela Clare. This book sent my emotions in a great roller coaster ride. I shed sad tears, bitter-sweet tears and happy tears. Definitely worth your reading time.
Now it's your turn!