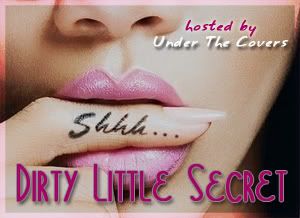 Dirty Little Secret
is a weekly meme hosted by us at Under the Covers. Every Thursday we get to know other bloggers and our readers more intimately by asking them a question hoping to reveal their dirty little secrets. We hope that you will all join us!
To participate in the meme all you need to do is:
1. Be a follower of Under the Covers.
2. Create a post in your blog taking the meme image (code above) and copy instructions.
3. Answer the question we propose! This can be done in any way you like, post a video, write a post etc.
4. Then add your link below.
Non-bloggers: We want to hear from you as well!!! Let us know your answer in the comments!
We hope you join us and let us know your
Dirty Little Secrets!
This week's question:
What book have you read recently that has surprised you (good or bad!), or that has been outside your normal reading genre?
Our Answer:
Suzanne:
Annie's Song by Catherine Anderson really surprised me, I wasnt sure I would like it as te blurb sounded like it might be a very angsty read, but instead it was a really great book, which although had some tear jerking moments was mostly very uplifting.
Francesca:
I have to go with Wicked as they Come by Delilah S. Dawson. This is not normally what I go for since it's a bit of a steampunk/urban fantasy/paranormal romance mix but that's not the only thing worth mentioning about this book. This book surprised me. Definietely in a good way since it was totally unexpected that I was completely glued to the pages. But more than that is the originality of the storyline and the world Ms. Dawson created. Truly a unique book, series, storyteller!
Angela:
There's actually a few books that shocked the hell out of me, but for this post I will pick Lyon's bride by Cathy Maxwell and Fifty Shames of Earl Grey. Let me tell you why. With Lyon's bride, I took on the book blindsithedly, and pretty much judged it by it's cover. I thought the cover did not do justice to the writing and plot of the book. *whispering* I didn't like the cover much. And for Fifty Shames of Earl Grey, well, I never thought a parody would be worth my time. I actually thought it could be offensive for *whispering again* my love for Christian Grey. But it wasn't and it was a good fun read. Lesson learned.
Now it's your turn!