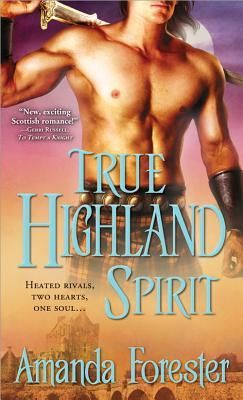 (Highlander #3)
by Amanda Forest
TRUE HIGHLAND SPIRIT is the third book in Amanda Forester's Highlander series. I really enjoyed the last book THE HIGHLANDER'S HEART and found that I really liked this one as well, but for very different reasons.
Morrigan McNab is a tough girl, a warrior woman who just so happens to be a thief as well. Her parents are dead so she is forced to participate in highway robberies in order to support herself and her clan. She does this with her brother, the laird of the McNab clan in order to survive.
Right off the bat, we see her in action as she singlehandedly outsmarts others to get what she wants. When the group she steals from leaves a minstrel behind, they push him in the direction of their clan and race forward to get there before him, pretending as if they have never met him before.
That night, the minstrel catches Morrigan's attention and when they are found alone, a kiss that wasn't supposed to happen occurs and leaves the level-headed Morrigan a little flustered.
Fast-forward later and Morrigan is now the laird of her clan. She finds out the true identity of the minstrel when she stumbles upon him during one of her missions.
The sparks fly when Dragonet and Morrigan are together. While I instantly liked Morrigan and her tough girl antics, it took me a little longer to warm up to Dragonet. It wasn't that I didn't like him, but it just took me a longer time to feel something for him unlike David Campbell in the previous book. There is mystery surrounding Dragonet so once those secrets were revealed, I grew to love him more.
In addition to the romance, there's quite a bit of historical detail that enhances this book. Forester continues to write stories that have enough mystery to keep a reader guessing while also balancing that perfectly with the romance. I'm looking forward to reading the next in the series.
Purchase Links:
Amazon