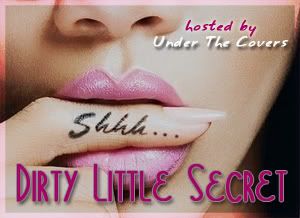 Dirty Little Secret
is a weekly meme hosted by us at Under the Covers. Every Thursday we get to know other bloggers and our readers more intimately by asking them a question hoping to reveal their dirty little secrets. We hope that you will all join us!
To participate in the meme all you need to do is:
1. Be a follower of Under the Covers.
2. Create a post in your blog taking the meme image (code above) and copy instructions.
3. Answer the question we propose! This can be done in any way you like, post a video, write a post etc.
4. Then add your link below.
Non-bloggers: We want to hear from you as well!!! Let us know your answer in the comments!
We hope you join us and let us know your
Dirty Little Secrets!
This week's question:
If you could travel back in time, what era would you like to find yourself in and why?
Our Answer:
Annie: I love regency romances, so I would probably like to go back to those times. The only thing I'm worried about is hygiene and medicine. Reading about medical issues is enough to freak me out. I don't know what I would do if I was actually living it! BUT as long as I get a rake like St. Vincent (from Lisa Kleypas' Devil in Winter), I'd be OK.
Angela: I would pick the Highlander Era and grab me a Laird of my own. From the highlanders I've met from KMM Highlander books etc, they seem to be soooo manly, so raw, so alpha. And I'd like to try their way of "TUPPING" and TUP All day!!!!
Francesca:
I'm with Annie on this, regency romances are my favorite and there's just something about that time that has ALWAYS drawn me in. And the clothes! Love the clothes!! Isn't it sexy, even though it takes so long, for the man to have to take off the corsets and all that??? There's just a magic spell in those times.
Suzanne:
I am with Ang, I don't think Highlander Era is actually a time lol but whichever era it is, give me a sexy highlander, a Laird preferably, but as long as he is big, bad and alpha I am down with it! Perfect example Hart Mackenzie, or any of them from a Julie Garwood book!
Now it's your turn!