by Johanna Lindsey
In her last two seasons, Amanda Locke has been passed by like a wallflower. Though she is beautiful and charming, there is something about her that causes all the eligible men to steer away from her. Now, her father, the Duke of Norford is prepared to take drastic measures to ensure that his daughter is well-cared for. As Amanda enters her third season, she is hopeful to find her true love.
Except she encounters Cupid instead. Cupid is a moniker given to Devin Baldwin, a horse breeder who has the uncharacteristic talent in matchmaking. After introducing several couples together that have resulted in a happy marriage, he has been deemed as Cupid. How fitting! The name irritates Devin, but it makes the story so much more fun.
To ensure that Amanda catches the eye of noblemen who are interested in horse racing, Amanda must learn to overcome her fear of horses. This is not an easy task for Devin, whose personality is not the most patient. But I loved how Devin pushed her. Lindsey is known for her battle of the wills storyline and LET LOVE FIND YOU is a classic. Devin does not pull any punches. He tells Amanda how it is and I think this takes Amanda aback.
The banter between these two was priceless. Lindsey is just so great at dialogue and with two strong wills, it's always a competition to see who will reign. I thoroughly enjoyed reading about it, though sometimes I did feel like some dialogue went on for too long.
In the end, I'm looking forward to reading some more of Johanna Lindsey's books. She is such a great storyteller! LET LOVE FIND YOU is a sweet story involving two people who believe in love, but just didn't realize that they'd find love in each other.
*Review Copy provided by the publisher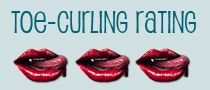 Purchase Links:
Amazon