Author Override is the place where authors take the reins and take you on a journey into their world. Some may allow you into their private writing dens. Others may take you along with them on research trips or interviews. Whatever the case may be, sit back, relax and enjoy the ride because here you'll get an in-depth look into an author's musings.

Introducing Sophis, the heroine of Masquerade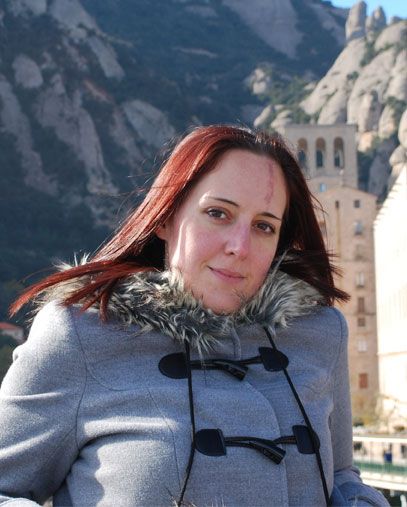 It's wonderful to be here at Under the Covers Book Blog for the next stop on the virtual book tour for my new vampire romance,
Masquerade
. Masquerade is the tenth book in my ongoing Vampires Realm romance series. Don't worry if you haven't read the others, as Masquerade does stand alone.
Today, I want to talk a little about the heroine of the book, Sophis. The first things that came to me for Masquerade, the tenth book in my Vampires Realm series, were the hero and heroine. They came with a story to tell and I listened. The plot grew from their pasts and their feelings, centred on them rather than the other way around.
Sophis isn't your typical strong heroine. She has a tough life and I think that shows in the way she approaches things and her feelings throughout the book. Some might think she's led a privileged life as a vampire. Her sire is one of the elite in her bloodline, and she lived a life of comfort prior to her decision to enter the guard, much to his disgust. She's fought convention since becoming a vampire. Her sire would prefer she traveled around Europe with him rather than dedicate herself to protecting her bloodline. Many in the bloodline look down upon female guards. And certain males have come to the conclusion that she doesn't deserve her rank of captain and want her removed from the guard completely. Sophis fights every step of the way for what she wants. She's strong in heart and character, but she has her weaknesses too. All heroines need weaknesses or they're just not believable.
Sophis's major weakness is her muddled feelings for Vivek, a fellow guard and the hero of the book. Vivek was once her friend and mentor, a man who taught her everything he knew and trained her to be strong, to fight for what she wanted. Her relationship with him changed the night she almost died in his arms, bleeding out from a dagger in her gut while the twin hunters watched on from a distance. Vivek almost died that night too, and she feels responsible for what happened to him, but doesn't know how to broach the subject or apologise. Things between them have deteriorated over the decade between that night and the opening of the book. Vivek has grown determined to have her thrown out of the guard, something she doesn't want, and she is constantly at war with him. The guard is her life and she will fight for it, just as Vivek taught her.
But just because Sophis is strong, it doesn't mean she isn't prone to making mistakes like the rest of us. When the book opens, Sophis is recovering from a fight against a hunter in which she went in without back up and had to be rescued by Vivek again. She returns to her position convinced now more than ever that Vivek is doing everything he can to have her kicked out of her beloved guard. When they're given the task of tracking hunters ahead of the masquerade, Sophis sees it as an opportunity to prove that everyone is wrong about her, especially Vivek, and tries to unravel what happened to him to change him so dramatically from the man she once knew.
Sophis is just like any one of us. She is strong but weak at the same time, confused by Vivek's behaviour and her lingering feelings for him. She doesn't understand why he changed but she feels partially responsible for it, even though she doesn't know why. She's a fighter but she's afraid she might lose the most important battle of her life and lose her place in the guard.
Sophis rises to the challenge of seeing to the safety of the attending bloodlines during the Creator Day masquerade, intent on proving herself to her commander, and to Vivek too. She's also determined to leave her past behind her and move on, forgetting Vivek and where their friendship may have been heading a decade ago. She's a woman on the brink of change, determined to do what is best for herself. I think many women have been there and will be able to relate to her. She knows what she wants, and faces the hard truth that the man she may have once felt something stronger than friendship towards no longer feels the same way about her. It's a tough time for any woman, but add to it the pressure of protecting the elite members of seven bloodlines from vampire hunters and you've got a serious challenge on your hands.
And what's a woman to do when she moves on only to have the vampire she had wanted to leave behind change on her once again, becoming the man she had been falling for all those years ago?
To find that out, you'll have to read the book and see just how Sophis and Vivek confront their past as they fight for revenge against the twin hunters who drove them apart.
If you would like to find out more about Masquerade or the Vampires Realm series, you can visit the official Vampires Realm website at http://www.vampiresrealm.com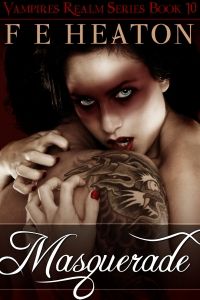 Masquerade is available now at Amazon Kindle stores, Smashwords and All Romance eBooks. It will soon be available for Nook, Apple devices, Sony Reader, and Kobo Books, but you can get it in epub from other retailers like Smashwords and my own website.
Masquerade


F E Heaton
Ten years have passed since Sophis and Vivek, two vampires of the Venia bloodline, came close to death at the hands of twin hunters Aleksis and Izabella Romanov. The events of that night turned Sophis and Vivek against each other, shattering their close friendship and driving them apart.




Now, on the eve of a centenary Creator Day masquerade and at a time when things between them are dangerously close to separating them forever, they uncover a small army of vampire hunters in Saint Petersburg, led by their nemeses, Aleksis and Izabella.




With the safety of the rulers of the seven pure vampire bloodlines in their hands and their chance for vengeance hanging in the balance, can Sophis and Vivek face their past and overcome their differences? Will they realise their true feelings for each other before it's too late or will the hunters finally claim their lives as their deadly plot to destroy the bloodlines unfolds?
Felicity Heaton writes passionate paranormal romance books as Felicity Heaton and F E Heaton. In her books she creates detailed worlds, twisting plots, mind-blowing action, intense emotion and heart-stopping romances with leading men that vary from dark deadly vampires to sexy shape-shifters and wicked werewolves, to sinful angels and hot demons!
If you're a fan of paranormal romance authors Lara Adrian, J R Ward, Sherrilyn Kenyon, Gena Showalter and Christine Feehan then you will enjoy her books too.
If you love your angels a little dark and wicked, Felicity Heaton's best selling Her Angel series is for you. If you like strong, powerful, and dark vampires then try the Vampires Realm series she writes as F E Heaton or any of her stand alone vampire romance books she writes as Felicity Heaton. Or if you're looking for vampire romances that are sinful, passionate and erotic then try Felicity Heaton's new Vampire Erotic Theatre series.
In 2011, four of her six paranormal romance books received Top Pick awards from Night Owl Reviews, Forbidden Blood was nominated as Best PNR Vampire Romance 2011 at The Romance Reviews, and many of her releases received five star reviews from numerous websites.
If you want to know more about me, or want to get in touch, you can find me at the following places: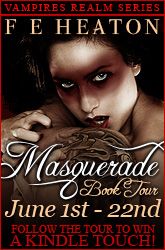 Felicity is giving away a signed copy of Seventh Circle + swag to one lucky commenter at UTC!

Seventh Circle
F E Heaton
Born with powers similar to a vampire's, Lilith has spent her life hunting demons for Section Seven. On the same night as she watches a vampire kill her best friend, she is faced with her worst nightmare—a client who is not only attractive but a vampire.

Lincoln is a powerful pureblood with a problem. He's caught up in a prophecy and has little time left to unravel the mystery of the contract between his lord and the Devil before he dies. When witches foretell that a vampire hunter will save his life, he's prepared to work with his most hated enemy, but he isn't prepared for the forbidden desire he feels when he meets her.

Their mutual attraction becomes difficult to deny as they work together but when Lincoln reveals the truth about her powers, will Lilith find the strength to embrace a side of herself that she wished didn't exist? And when they discover Lilith's role in the prophecy, how far will Lincoln go to save her?

Dark, sensual and fast-paced, Seventh Circle is a story of forbidden love so strong that it will save the world.
I would also like to take this moment to mention that there is a grand giveaway running throughout the whole of the Masquerade Book Tour. The top prize is a KINDLE TOUCH plus bundle of Vampires Realm series ebooks 1-9 (doesn't include Masquerade), and it's open internationally. You can find all the details at the Masquerade Book Tour page: http://www.felicityheaton.co.uk/masquerade-book-tour.php