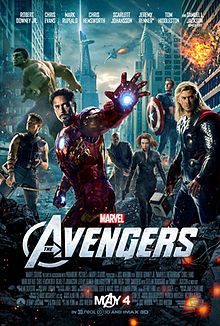 THE AVENGERS is probably the most anticipated movie of the year. With such beloved characters and an all-star cast, this movie is sure to reel in the masses. The expectations were high because of the success of the other Marvel films, but I have to say I was thoroughly impressed by this movie.
If you've watched Thor, then you know of Loki and his master plan to rule a kingdom. This time he has his sights set on Earth and will anything to achieve that. With his godly powers and his magic stick, he does everything in his power to make humans kneel before him but Nick Fury of S.H.I.E.L.D is there to stop him. Except he can't do it alone. This is where the band of remarkable heroes comes in.
Each of the heroes were perfectly casted for their roles. I loved them all, but I have to say that Thor (Chris Hemsworth) and Iron Man (Robert Downey Jr.) were my favorites. I even loved Loki (Tom Hiddleston ) whose his acting was off the charts. He conveyed so much with his facial expressions. Loved him. He made for a great villain.
Another great thing about this movie is the humor. The banter between the all the characters was hilarious and I also loved the tension between them all. How do you bring all these superheroes together and expect them to work as a team? It was definitely interesting to watch them go at it and even fight each other.
Which leads me to the next thing I want to mention – the action. Full-throttle, action-packed doesn't even cover it. From the very beginning you are bombarded with special effects that will blow your mind. You will definitely not be bored while watching this movie.
I do have one complaint though... Why weren't there any shirtless Thor scenes? A girl's gotta get her fantasies from somewhere, right?
The Avengers is definitely one you should check out. You can trust me when I say that it won't disappoint.