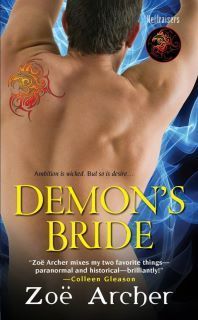 by Zoe Archer
(The Hellraisers # 2)
Ms. Zoe Archer did not disappoint. This 2nd installment of the Hellraisers is just as good as the first and then some.

Leopold Bailey, the son of a saddler, has made a deal with the Devil. As all of the Hellraisers, each of them now possess a power gifted by the Devil himself to be used in exchange for their souls. The problem is that the more they use their power the more of their soul is consumed by the devil and more evil is unleashed around them.
Leo's gift is the ability to see one's future. He used this gift wisely to gain power and wealth but his long time desire to be accepted by the people who treated him poorly was not within his grasp. Leo will never be of noble birth and the only way to get similar recognition is to marry with name and station. With evil and greed, will it ever be enough?....

Ann Hartfield, daughter of a Barron, knew exactly what she married into. She married a man who has made his own wealth and she knew exactly of his family background. But what she didn't know was that the man she married had deep secrets.

I must say that I enjoyed this book a lot. The character build up was well done. Both Ann and Leo had grown in a respectable time within the book. Ann grew from this demurred woman to a strong willed heroine who can take care of herself. And Leo, well, we already know he's a greedy man, but his realization of his predicament was well done. He did not just wake up and said…"oh, I'm so SOL". He had time to see what he might be losing…..

The best was their romance. Although they were married for business, they both decided to take the time to get to know each other and up until the very end Ms. Archer made it to the point that…trust is not easily given. Of course, because of his love, Leo will definitely take the challenge.

We got a good amount of Whit and Bram in this book which I loved. Bram is one hottie Hellraiser to watch out for, mark my words. I think he is the most intriguing of them all. We also get a glimpse of John and Edmund, which I thought was NOT enough of. The ladies Zora, Livia and Rosalind were also there briefly.

By the end of this book, we are left with half of the Hellraisers with their souls still to be saved. I was left with my mouth open with one question in mind: Did that just happened? Oh yes, an unexpected outcome just for our couple to get their HEA. I cannot wait to see what Ms. Archer has for the next book.
*ARC provided by author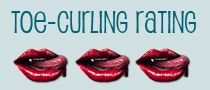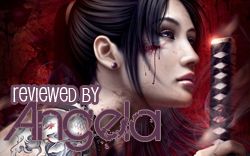 Maidens, Ms. Archer has a copy of Demon's Bride up for grabs!
To enter:
1. Be a follower
2. Fill out the form below